Welding and Installation
EKO-SYSTEM particularly relies on Fronius welding units. We are equipped with small welding units for covered electrodes and also with a fully digitized and microprocessor-controlled MIG/MAG welding unit for a short, spray or pulsed arc that enables the best welding properties in every respect and the welding results that may be reproducted as often as required.
In addition, we own an automatic machine for the welding of longitudinal beams that is mounted with the most powerful welding units.
Installation
We understand that it is necessary to have own facilities to carry out installations. We therefore own two fully equipped cars with the necessary equipment for any work.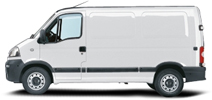 Our cars:
Citroen Jumper in basic design
Opel Mováno in extended version
Opel Combo