Duct Gates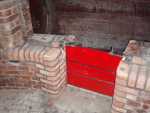 Stop log duct gates are derived from EKO-SYSTEM stop log system. A stop log gate consists of permanently mounted lateral guides between which stop logs are mounted if necessary. Since lateral guides contain double-sided sealing, the drain gate is sealed on both sides.
The stop log duct gate is able to ensure the closing of the individual pipes in a drain line, to modularly solve spillways and temporarily lock chambers for the service of flood gates. It also enables to build line barriers in branch chambers and thus regulate the level of water. Lateral guides follow the shape of existing pipes, for example the egg-shaped sewer, as you can see below. The range of application is wide and there are even more examples than those listed below.
For these purposes, our technology comes completely in corrosion resistant design for permanently mounted elements and a tightening device. The stop logs themselves are made from a drawn aluminum profile that is surface finished in RAL shade according to customer requirements. The surface finishing of stop logs prevents corrosion in a very aggressive environment and it is necessary for these purposes.
Description of technology
Lateral guides and gate seat are mounted to a building. For the egg-shaped sewer or circular sewer, lateral guidance is bent to avoid the creation of pockets where dirt is deposited. Stop logs are inserted into lateral guides one on each other successively up to the maximum height of the barrier. Stop logs are secured by using a tightening device that slides into lateral guides above the topmost stop log. By turning a screw the sealing between stop logs is tightened and the whole barrier is tightened as well.
When the gate is not closed, stop logs are stored in a console – either on the chamber wall, or under the chamber ceiling.
Sample pictures