Mobile Flood Protection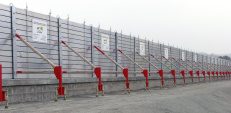 This part is primarily intended for designers and city or town representatives. Here you can find out detailed information about our system that should make your planning and decisions easier. You will also learn that the simple
EKO-SYSTEM
technology is the right solution for you!
Mobile flood walls and barriers intended for thoroughfares is the flood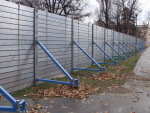 protection that is constructed in a longer line that forms a plane between a protected and unprotected area. They are usually constructed along waterways passing through populated urban areas. For this reason, it is the protection of territories rather than individual buildings.
Since the projects are large, the cooperation of town representatives, river basin representatives, designers and investors is necessary. In such cases, flood protection is solved comprehensively, for example by underground reinforced-concrete walls combined with mobile elements, earth embankments, duct gates, pumping stations, and so on.Pro podrobný popis naší tecnologie prosím prozkoumejte následující části: