Storage and Handling
The method of storage always depends on the number of mobile elements. To store several elements, we usually provide a console for wall mounting, which especially helps save required storage space. The console can be lockable.
For a medium or large number of mobile elements stop logs are supplied in bundles. Individual layers are spaced out with wooden stickers that ensure perfect air circulation. For portable shores and stop logs we supply steel pallets that enable easy handling by means of a for-lift. Stacking the pallets is a matter of fact.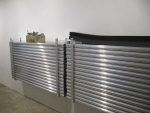 In large projects we also provide storage containers according to customer requirements. The containers store mobile parts on pallets according to individual sites. It means that each container has its own precise location and includes all parts to build a particular section of a mobile flood wall.
Mobile barrier parts are stored in storage containers for example in the Capital City of Prague.
Sample pictures